About the Atlanta REALTORS® Center
The Tommie Jackson Building
Developed in 1989, the Atlanta REALTORS® Center's distinctive neo-classical design immediately won industry praise and was named the winner of "The Industry's Choice Corporate Facility Award". Dedicated to Tommie Jackson, a cornerstone of local real estate associations' development, the building is a beacon for professionals looking to do business in the metropolitan area. The building enjoys a unique setting nestled among the trees bordering residential areas while having what might be the quickest highway access to 2 major arteries in all the region.
In addition to the outstanding location and aesthetic appeal, affordable Executive Suites are available for lease, as well as classrooms and conference rooms available to rent. To discover what the Tommie Jackson Building can provide you and your business's growth, stop by for a visit or contact us today.
Convenient Location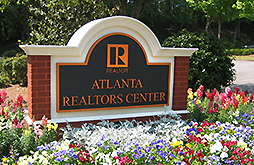 The 40,000 sq. ft., 2-story building is conveniently located in Sandy Springs just a ½ mile west of Roswell Road and I-285.
The first floor is occupied by the Atlanta REALTORS® Association, Atlanta Commercial Board of REALTORS®, the Capitus Real Estate Learning Center, along with high-end conference rooms available for free to members of either board.
The second floor is the Executive Suites area with 40 different tenants including, but not limited to commercial & residential brokers, developers, investors, mortgage brokers, attorneys and other business owners and small office tenants.
The Atlanta REALTORS® Center is owned and operated by the Atlanta REALTORS® Educational Foundation. The Foundation is incorporated in the state of Georgia as a not for profit corporation and was approved for tax purposes as a 501(c)(3) organization.